It has been a busy few months on the professional development front, with DIT staff traversing the country and beyond to attend conferences and training sessions.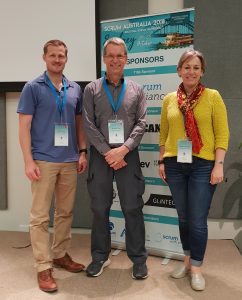 In September staff headed to Sydney for the Women in Tech conference, Brisbane for the CAUDIT Software Licensing and Asset Management conference and Perth for the CAUDIT P3M forum.
October was our busiest month yet with the University IT Service Strategy and Challenges conference in Melbourne, Squiz Summit, Web Directions Culture and SCRUM Australia conferences in Sydney and the Gartner Symposium ITEXPO on the Gold Coast.
Project Managers, Business Analysts, CRM and Web Office staff participated in Feature and User Story Training in Wagga Wagga. And staff from the Service Desk, Applications, Networks and the Project Managers team attended 3 day ITIL Foundations training on Albury campus, with the added pressure of an exam at the end. Happily everybody passed and received their certification – well done!
Feature and User Story Training – Justine Rye, John Sherwin, Kris Harrison, Dallas Woolley and Mark Westerman.

Feature and User Story Training – Lauren Healey, Temma Lee, Paula Woodhouse, Shane Miller and Scott Barlow

Feature and User Story Training – Rob Geis, Sophie Dewar, Mark Sice and Mike Charles

Feature and User Story Training – Mavis Jenkins, Dan Francisco, Ivan Saric and Brendon Shiels

ITIL Foundations Training – Brad Taylor, Shane Dissanyake, Tom Coates, Alex Metcalfe, Chris Clements, Richard Norton, Paul Bristow and Kelly McCormack
Other training DIT staff attended throughout October included LGBTIQ+ Ally Inclusion training on Albury Campus, Microsoft PowerShell training in Sydney and a Women in Leadership workshop in Sydney.
In early November Sam Barnes and Ben Tilson from the Integration team headed to Las Vegas for the Boomi World conference, sharing lots of photos and updates throughout the conference on our DIT Staff Yammer group. If you are interested in reading more about this conference check out Sam's Boomi World 2018 wrap up.
Ben Tilson and Sam Barnes, Integration team – Boomi World in Las Vegas

Boomi World, Las Vegas – Ben Tilson and Sam Barnes