DIT is always looking for new ways to enhance the university's information and communication technology (ICT) services and practices, to tackle energy and environmental issues such as electricity consumption and e-waste.
A number of the key initiatives led by DIT to improve ICT sustainability include:
application of power management policies – shutting down public access computers and placing staff computers in hibernation mode after hours
relocation of enterprise servers to externally-hosted, state-of-the-art datacentres offering best practices in energy efficiency
availability of video and desktop conferencing technologies offering a viable alternative to face-to face meetings, significantly reducing impact from travel
recycling of used toner cartridges through partnership with Ricoh Australia
consideration of Energy Star ratings in the procurement of computers and a commitment to ensuring IT equipment does not end up in landfill.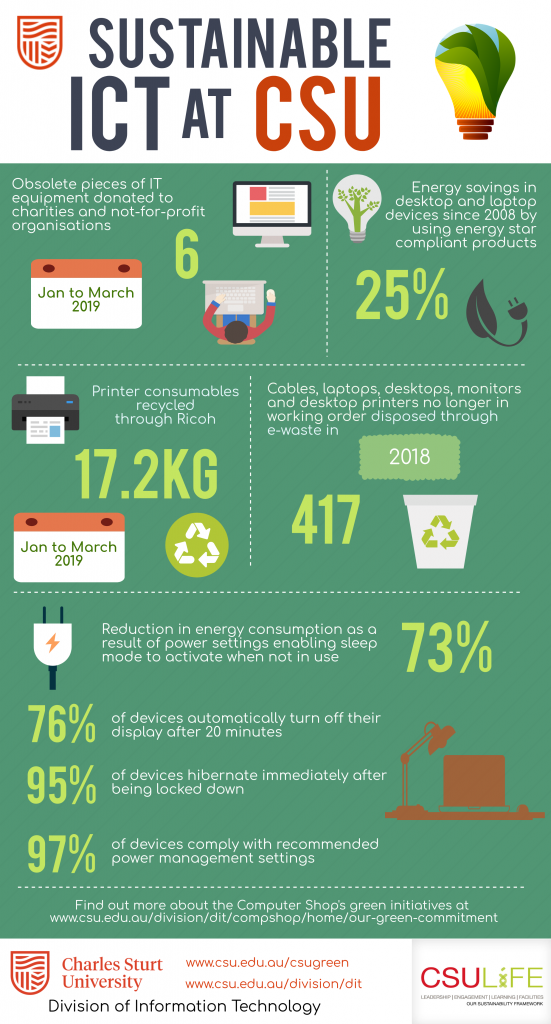 You can support sustainable ICT at Charles Sturt in the following ways:
Use the toner cartridge recycling system available and place used batteries from wireless devices into the nearest battery recycling bin.
Log an IT Service Desk request and submit an Asset Disposal Form for disposal of obsolete CSU-issued computers or devices.
Return old laptop batteries and CSU-issued mobile phones to the CSU Computer Shop for responsible disposal.
Use the various CSU conference technologies as an alternative to travel whenever possible.