The IT Service Desk is made up of a manager, team leader, nine permanent staff and extra student casual staff as required. We work together as a virtual team, spread across seven campuses.
The team provides IT support to clients through:
two call queues – the high priority line for learning and teaching issues and the general IT Service Desk line
self-service incidents and requests logged via the Staff Service Centre.
The Staff Service Centre enables CSU staff to log incidents and requests 24 hours a day, 7 days a week. The IT Service Desk team process the logged jobs, and either resolve or escalate them within DIT or to partner IT teams.
The IT Service Desk is a centralised point in which nearly 40,000 jobs per year are processed, triaged or resolved in the Cherwell platform.
Along with the management of telephone and self-service queues in Cherwell, the IT Service Desk is the first point of contact for all audio visual and teaching related issues across the university. We proactively work with the Personal Computing team to ensure minimal loss of teaching time is experienced.
IT Service Desk statistics: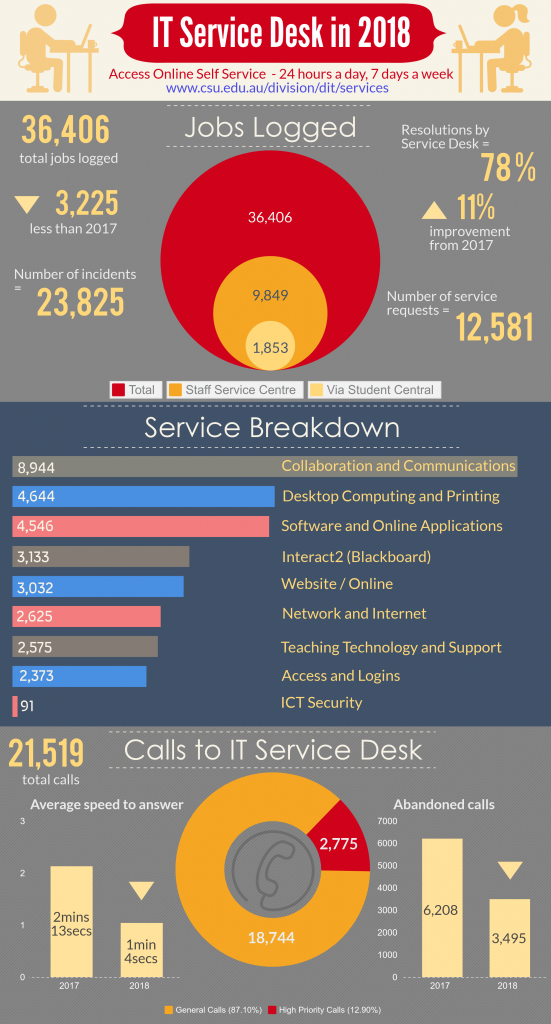 Call wait times
The IT Service Desk aims to answer all calls within two minutes, however during peak times and heavy load this is not always possible. We encourage the use of self-service to log non urgent issues and requests, allowing us to assist you and your CSU colleagues with urgent issues more promptly.
Phone calls to the IT Service Desk that have been disconnected prior to reaching an agent are known as abandoned calls.
In an effort to reduce wait times and the number of abandoned calls we have implemented several initiatives:
Realignment of the team roster and breaks based on a heat map, to ensure maximum coverage is available at peak times.
Shortened messages.
Shortened time to voicemail and automation of a ticket logged in Cherwell.
A focus on processing voicemail tickets quickly.
The option to choose to leave a voicemail instead of continuing to wait on the queue.
Reprioritising tasks to answer calls when necessary.
These improvements have already had a significant impact:
Average call wait time (speed to answer) halved from 2 minutes 13 seconds in 2017 to 1 minute 4 seconds in 2018.
Abandoned calls dropped from 6,208 in 2017 to 3,495 in 2018.
These statistics continue to improve coming up to mid-year 2019 – with call wait times less than 50 seconds, and just over 1,000 abandoned calls.
More information
Visit our IT Services page to find detailed information about the services and support resources that are available.