The Web Office has worked with the Division of Marketing and Communication and other key stakeholders across the university to redevelop the Future Students Hub. The new prospective students' site is now up and running.
Experience it here: https://study.csu.edu.au
We have applied the learnings and outcomes of the student journey to the structure of the new site. As a result, the site is easier to use and more engaging for prospective students.
The new site provides a more personalised user experience. It allows us to better integrate with Marketing's Adobe analytics and marketing automation platforms. Marketing can now know who the prospective student is and have customised content pushed to them via the new site.
More for prospective students
We've developed a personalisation 'backbone' within the Squiz Content Management System so that we can tie study.csu.edu.au in with the application processes. This means a smoother more seamless experience for prospective students using our sites.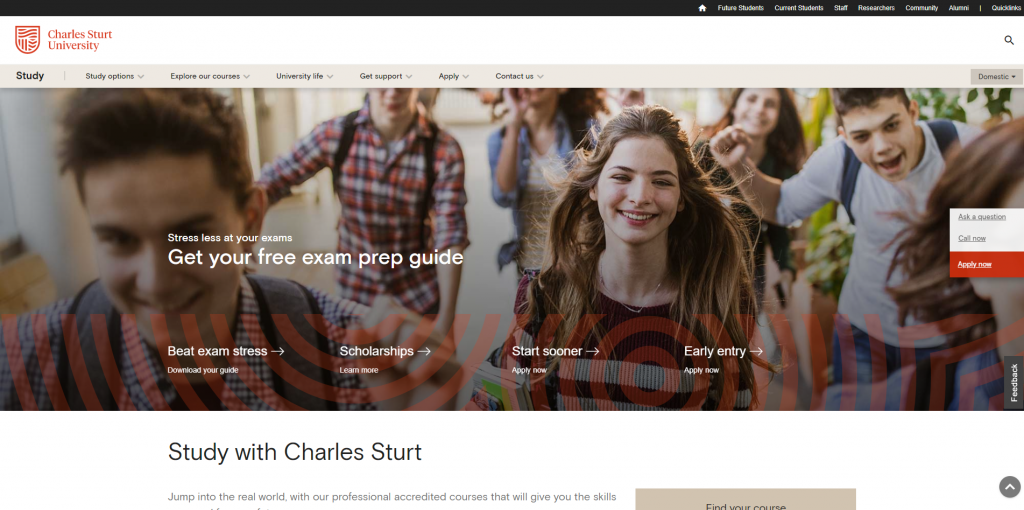 According to analytics, visitors are engaging with our new site more than the original site and spending longer times on pages.
More for university editors
The new site has been built using our Design System components and we have provided training to content editors.
Content editors can now more easily update their pages with minimal support from the Web Office.
What's next?
We are now in the user experience and technical discovery phase of the second stage of these works. This stage is looking to extend the personalisation experience, as well as improve the key site areas that 10,000 plus users per day are visiting.