Using fake emails and text messages, scammers are taking advantage of the current COVID-19 situation and exploiting people's uncertainties. Their primary goal is to gain information such as passwords and banking details.
The Australian Cyber Security Centre (ACSC) is aware of a particular COVID-19 themed scam that is being distributed via text message.
The text messages appear to come from 'GOV' as the sender and include a link to find out when to 'get tested in your geographical area' for COVID-19.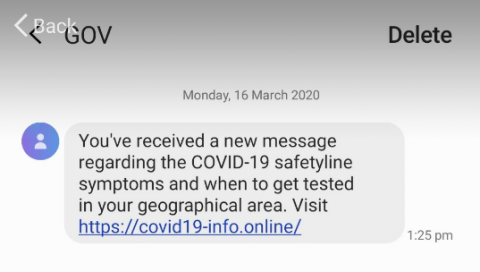 The link in these text messages is not legitimate. If you click on it, it may install malicious software on your device, designed to steal your banking details.
Protect yourself from phishing scams
Don't click on links or open attachments in emails or text messages from people or organisations you don't know.
Hover over links before you click on them to see the actual web address the link will take you to – usually shown at the bottom of the browser window. If you don't recognise or trust the address, try searching for relevant key terms in a web browser. This way you can find the article, video or web page without clicking on the suspicious link.
If you're not sure about an email or text message you receive, check its legitimacy by contacting the relevant business or organisation. Use contact details sourced from the official company website.
If you have received one of these text messages and you've clicked on the link, or you're concerned your personal details have been compromised, contact your financial institution right away.
If you think you may have been tricked by a phishing scam change your Charles Sturt password immediately.
To stay up to date on the latest online threats and how to respond, sign up to the Stay Smart Online Alert Service.