Work on the new DIT website is in full-swing with a planned go-live scheduled for the end of June.
The project team which includes staff across DIT have been busy working to create the new site since August 2019.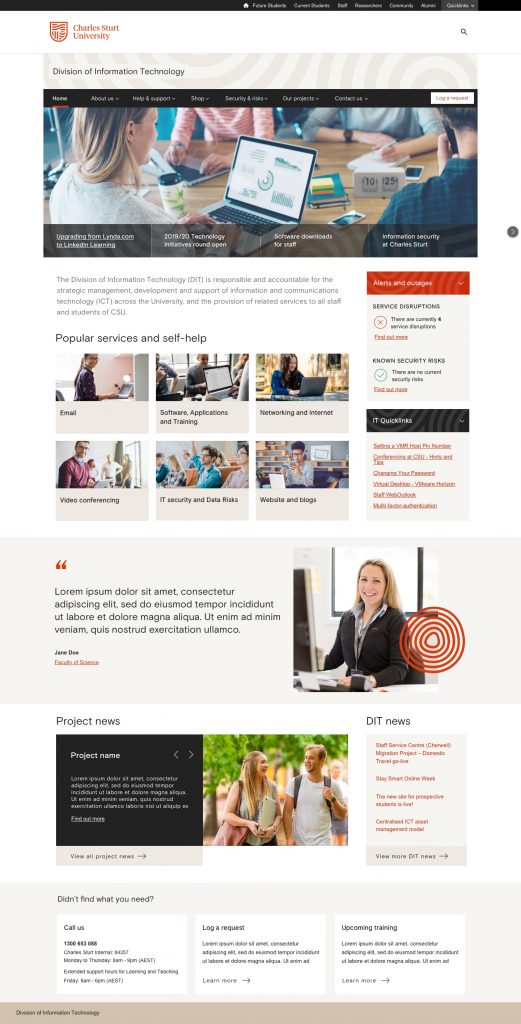 Why are we completing a website refresh?
Introduces a consistent look and feel with other Charles Sturt webpages.
Creates a modern look and feel to reflect vibrancy.
Provides easier to find and better utilised self-service and service information.
Encourages more jobs to be logged online through the Staff Service Centre.
Creates a cohesive look and feel between DIT, Web Office and Computer Shop webpages.
Uses minimal clicks to get to relevant information.
Helps ensure internal division information is not published on the web.
What's been done so far?
Review of current information architecture (IA) to inform new IA.
Customer behaviours and feedback on the current DIT website collected to help inform organisation of information, tools and resources going forward.
Wireframes and mock-ups developed.
Consultation with key stakeholders.
BAU review processes designed.
Content review.
What's next?
The team have almost finished the site build. This includes building new Mk3 university website templates and components and transferring content into the content management system (CMS). Once completed, the website will undergo an extensive quality check to make sure everything is okay for go-live.
This project has been a massive team effort so a big thank you goes out to everyone who has been involved. If you have any questions about the project, please contact Kiah Ryan for further information.