A significant amount of work has been occurring in DIT in scaling infrastructure services to ensure all staff are able to work from home and on-campus students are able to be taught online.

Teaching and learning environments – video conferencing

Pre COVID-19, the primary tool used for online teaching was Adobe Connect, while admin conferencing and intercampus teaching uses Pexip.

A project was already underway to look at replacing Adobe Connect and Pexip, and the project team had selected Zoom as the best fit with implementation planned for November 2020.
In March, with the urgency to move all on-campus classes online, we increased Adobe Connect licences from 600 to 1200 seats. This also required upgrading of infrastructure.

To supplement the existing Adobe Connect service for online teaching, students and staff were able to access Zoom within 48 hours of the university purchasing licences. The Division of Learning and Teaching, with help from DIT, provided training materials and ongoing support for faculty.

As well as online classes, Zoom is being used for VCLT webinars to all staff. The number of Charles Sturt staff and student Zoom registrations is now exceeding 10,000.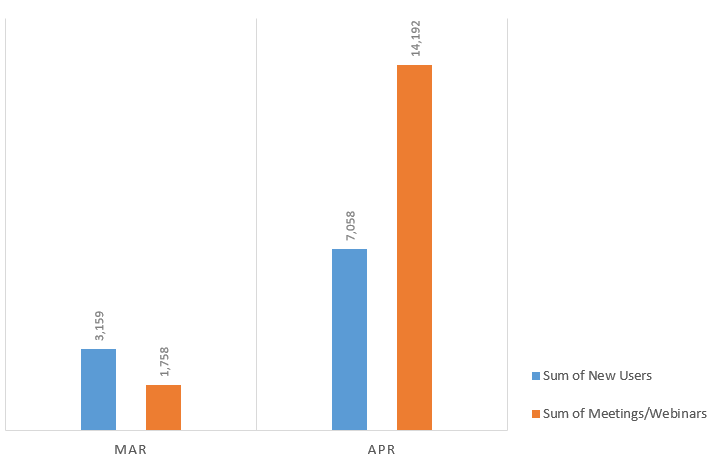 Zoom will replace Adobe Connect and Pexip during 2020, providing a single platform for teaching and administrative video conferencing. It will also replace Bridgit for data sharing and deliver a significant savings cost.

Exams and assessments

Exams week for our China partner students commenced on 20 April. We enabled the Alibaba VPN solution on 18 April to improve access speeds through the Chinese Firewall to learning materials housed in Australia and APAC.

With the 202030 exam period coming up in June there are urgent activities underway to put in place an online exam proctoring solution and alternative subject assessments.

A working party reporting to the Executive Dean, Faculty of Business, Justice and Behavioural Sciences, brings together a multi-skilled cross-unit team to manage and coordinate complex activities. The working group has been supported by a DIT project manager.

Activities underway

Online exam proctoring: Implementing Examity for short term automated online proctoring for approximately 3,500 student exam sittings. This involves integration with Interact2 (Blackboard) for student registration and exam proctoring.
Take-home exams: Many academics are favouring the use of fixed time take-home exams. Most of these exams will be submitted by students via the EASTS system. Work has been occurring to test the capacity of EASTS to manage the increased load and volumes.
Assessment integrity tools: Cadmus is another tool being piloted within the Faculty of Science to provide improved assessment integrity controls and assessment analytics to assist with student retention.
Exam configuration and scheduling: The Division of Student Administration Exams Office is managing exam scheduling, which is important to spread the load on systems. Scheduling will inform the automatic release of exam content, Test Centre tests and Take Home exams, in Interact2 at defined times during the exam period. DIT is part of the team working on communication to academic staff and students on the processes to support changes to subject outlines, exams bookings, creation of Interact2 exam modules, use of additional online testing tools and the setup of AE/SX exams.
Working from home – remote access

Supporting the move of the majority of university staff off-campus to work remotely from home was a significant undertaking. Across all our teams there was a range of activities going on to ensure staff would have continued access to university services and systems.

We doubled the Pexip conferencing infrastructure capacity so that staff could join conferences from home by audio or video. The number of call centre licences was increased to ensure Student Central business continuity, and we increased the number of landlines available from 180 to 300 to allow for remote phone conferencing.

Virtual Private Network (VPN) simultaneous connections have been increased from 300 to 1500 users using a virtual Cisco cloud-based solution. Virtual Desktop Infrastructure (VDI) has increased from 600 users to 1500 users, both staff and students. VPN and VDI are not required for services such as video conferencing, Skype, Web Outlook and Web Kiosk, which can be accessed with an internet connection only.

Our current usage is around 800 concurrent VPN users and 200 concurrent VDI users daily. As a result, the number of staff registered for multi-factor authentication with Duo Security has grown from 800 to over 2,450.

We developed user guides and support materials for working from home and delivered online training sessions, peaking at 244 attendees at one session. We have also established safe processes for repairs of computers that are not able to be remotely resolved and for scheduled replacement of old computers.

In the week ending 27 March, the Service Desk had their highest number of contacts ever, with another spike post-Easter.

Thank you

We take this opportunity to thank you all for your patience and understanding throughout this busy time.